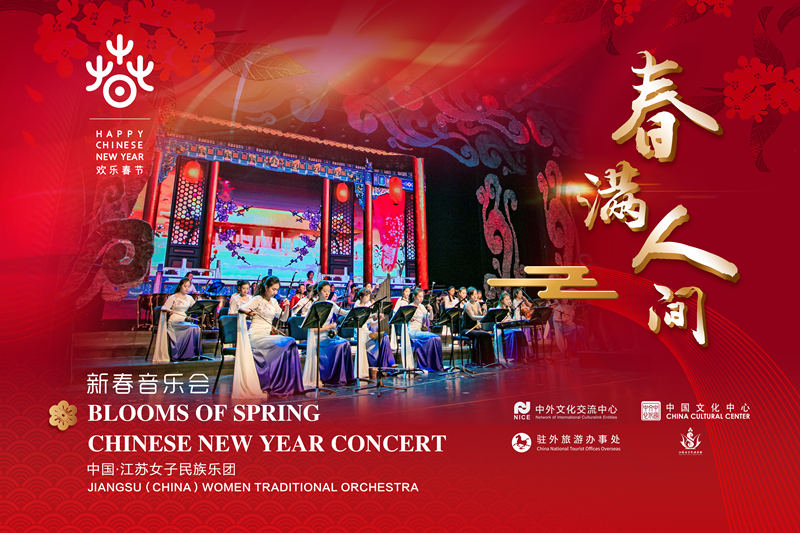 Please click the picture above to enjoy Blooms of Spring——Chinese New Year Concert
          Everything renews year after year. As a good start of the whole year, spring comes back with hope and happiness. Well-known for the name "Spring Festival", the Chinese New Year is regarded as one of the most important traditional festivals for Chinese people. In this period of blossom, Jiangsu Women's National Orchestra, reputed as "the Jasmine of Chinese traditional music" will present a high-quality concert "Blooms of Spring" highlighting the prosperity and romance of the season.
          This concert aims at showing the festival mood of the Chinese New Year, delivering the good wishes and expectations of the Chinese people for the year to come, and sharing a spirit of peace and harmony with peoples all over the world. The 45-minute concert contains 5 parts including 10 pieces of music on celebrating the Chinese New Year.
Prologue:
1. National Orchestral MusicSpring Festival Overture
Composed by: Li Huanzhi
Chapter I  Happiness
2.National Orchestral MusicCelebrating the New Year
Composed by: Yang Chunlin
3.Flute and Orchestra Hanging Red Lantern
Composed by: Zhou Chenglong  Flute by: Tang Hao
4.National Orchestral MusicHappy Chinese Festival
Composed by: Lin Yuting
Chapter II  Blossom
5.National Orchestral Music (Spring Blossoms)Watertown and Green Field
Composed by: Gu Guanren   
6.National Orchestral Music Jasmine Flowers Are Blooming Again
Composed by: Yang Chunlin
Chapter III  Celebration
7.National Orchestral MusicBeijing's Good News Reaches Borderland Village
Composed by: Zheng Lu, Ma Hongye
8.National Orchestral MusicDance of Youth
Composed by: Yang Chunlin
9.National Orchestral MusicSpring in the South
Composed by: Wang Aikang
Finale:
10.National Orchestral MusicNew Dance of the Golden Snake
Composed by: Nie Er
Recomposed by: Yang Chunlin