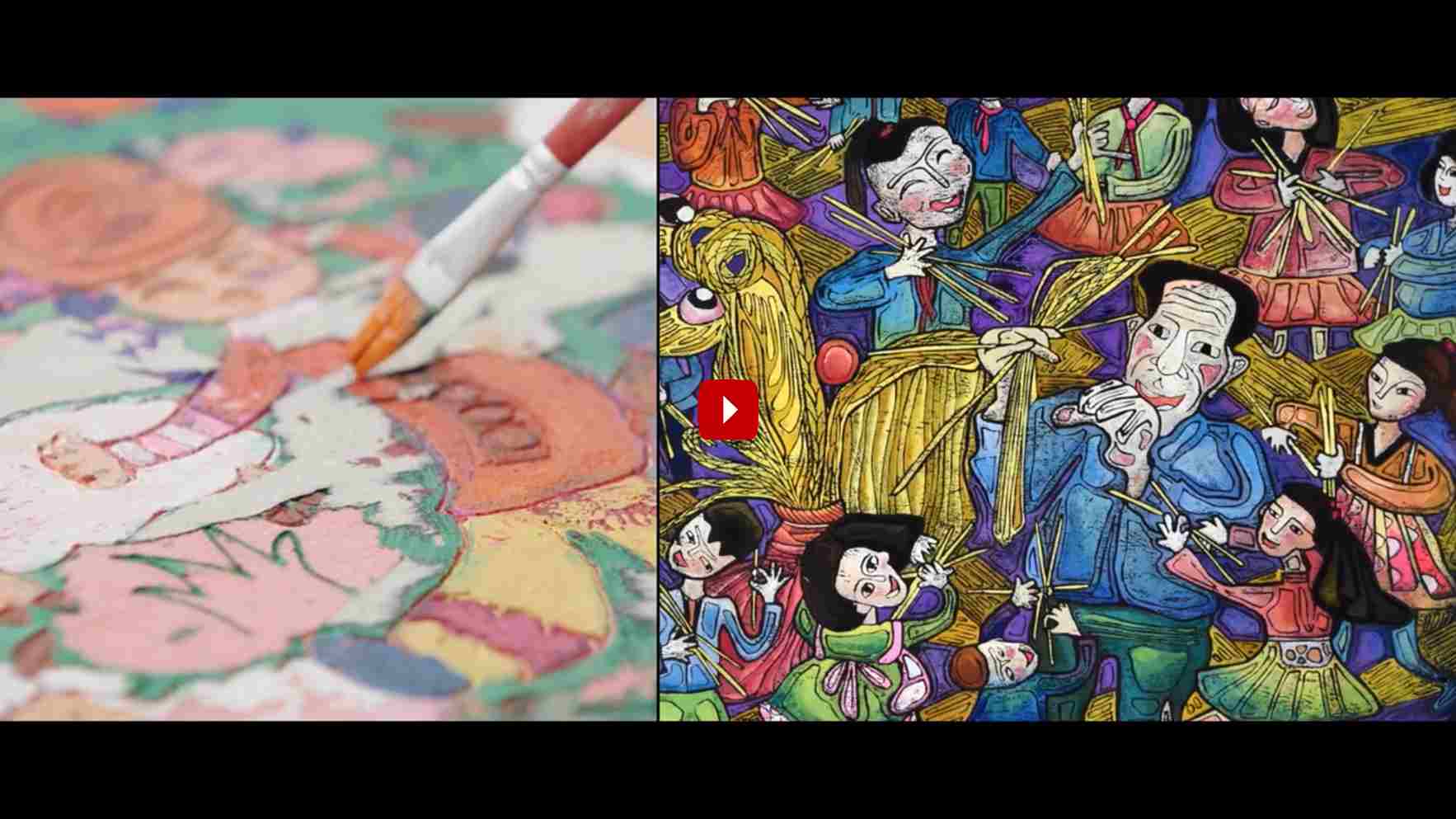 Chongqing- Qijiang District is the southern gateway to Chongqing, and location of the only battle fought by the Red Army during the Long March in Chongqing. Marshal He Long once famously praised Qijiang as a great place.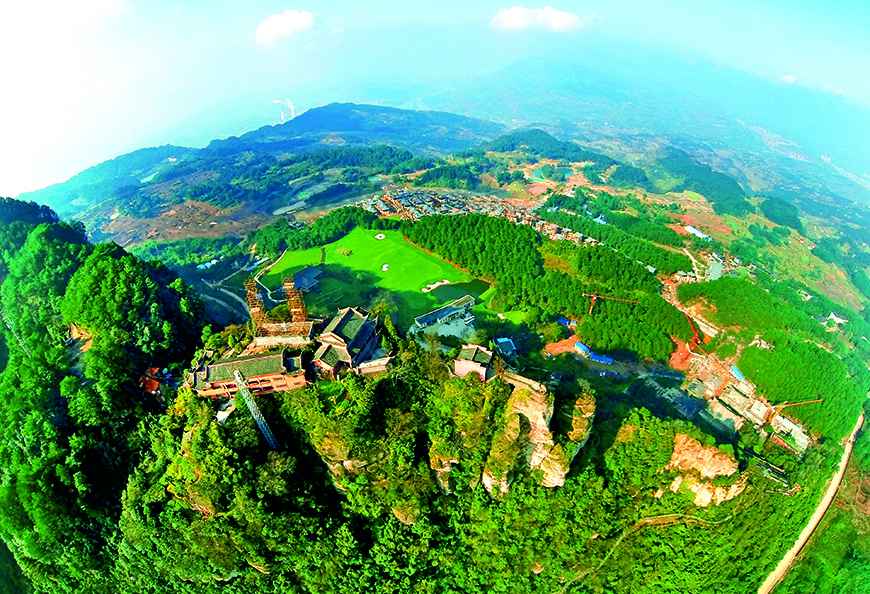 Qijiang district
In recent years, development in cultural travel now means Qijiang can entice tourists far and wide with attractions including the Gujian Mountain sunrise, dinosaur hunting at Laoying Mountain, and the ancient Yanma Trail.
This is the hometown of Chinese block prints, where the natural colors of Qijiangare meticulously crafted into the wooden masterpieces, and convey the glories of local pastoral life.
The 'Suona' horn woodwind instrument is nationally recognized intangible heritage. It has sounded for generations to become part of the cultural landscape as the gentle tunes tell of sorrows and joys.
Food in Qijiang has the power to invoke strong feelings of nostalgia. The three flavors of 'Beidu' Fish come in the three special varieties spicy, sour, or sweet.
Famous tastes of Qijiang include the beef jerky, the Fanzaoyang chili sauce, and head of radish, just to name a few.
A base for exploring red history
On January 15, 1935, the Red Army entered Qijiang to prepare their march into Chongqing. After the Zunyi meeting, more than 8,000 soldiers were transferred to the command of Shihao, creating a valuable opportunity to move on Chishui in the north of Chongqing.
In Qijiang, you can explore the old site of Shihao Red Army Bridge, the Red Army Corps headquarters, and the tomb of Red Army martyr Shihao.
In the square of Jiupan Village in Anwen Town, across from Dayakou on Red Army Street, listen to the old folk tell Red Army stories under the sweet gum tree.
At present, Qijiang is fully tapping into the wealth of red history, and speeding up construction of the Long March National Cultural Park as a base for patriotic education.
Discover the secrets of longevity
Hengshan is first choice when it comes to well-being holidays. The average altitude is 1,000 meters, and the average summer temperature is 25°C. Most of the territory is within the golden 29-degree latitude elevation line, and forest coverage in the core scenic area exceeds 90%, which is ideal for maintaining health.
The registered population of Hengshan barely numbers 15,000, yet there are 440 people aged over 80 years old, and 7 centenarians, a number which exceeds the United Nations longevity index by 46 times. As a result, Qijiangis known widely as the Homeland of Centennials. 
As the city's first health care service demonstration base, Hengshan Town is actively constructing a smart elderly care model, and famous events such as the Longevity Festival are celebrated far and wide.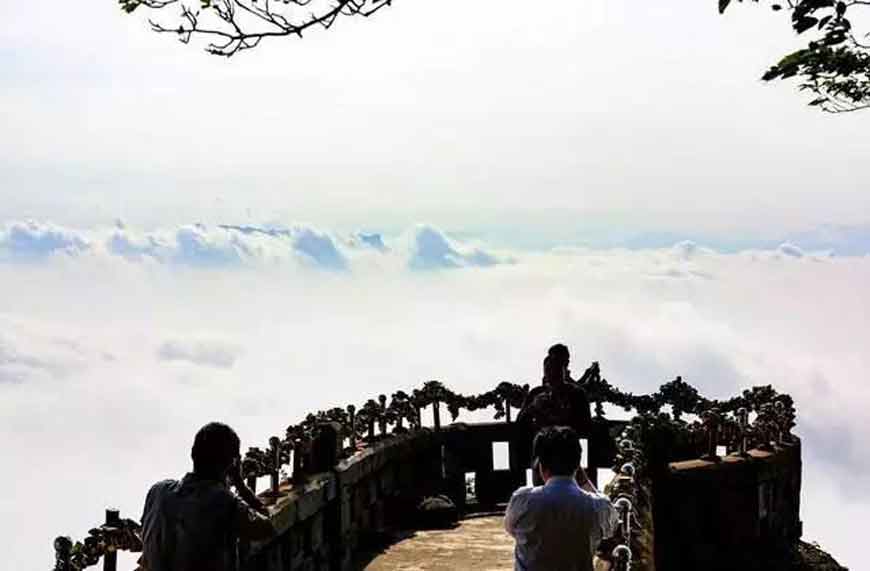 Top of Gujian Mountain
Gujian Mountain is a multifunctional tourist area that integrates Zen travel, health, and recreation, allowing people to temporarily enjoy a serene getaway away from the crowds.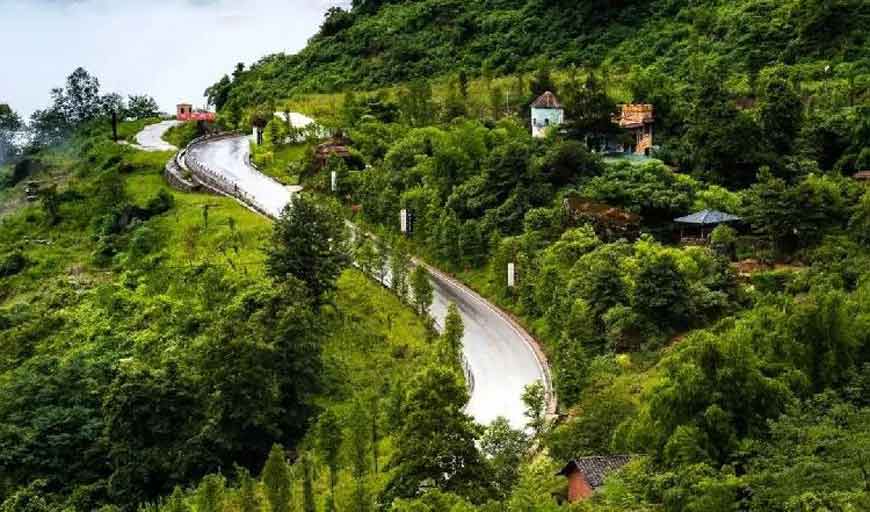 Road of Gujian Mountain
Guofu Town is a tourism demonstration area located at 29 degrees north latitude, and welcomes hordes of guests who come to have summer fun on the high-altitude swing, cliffs, parent-child facilities, lotus tents, and starry cabins. This picturesque location is an unspoilt paradise for people to explore the charming surroundings at leisure.
Tracing ancient footsteps
The Yanma (Salt Horse) Ancient Trail has shined in prosperity throughout its history.
The Chuanqian Ancient Road from Haitangxi in Chongqing to Guizhou Province crosses the Qijiang River from north to south, and so many salt transportation routes were set up in the region.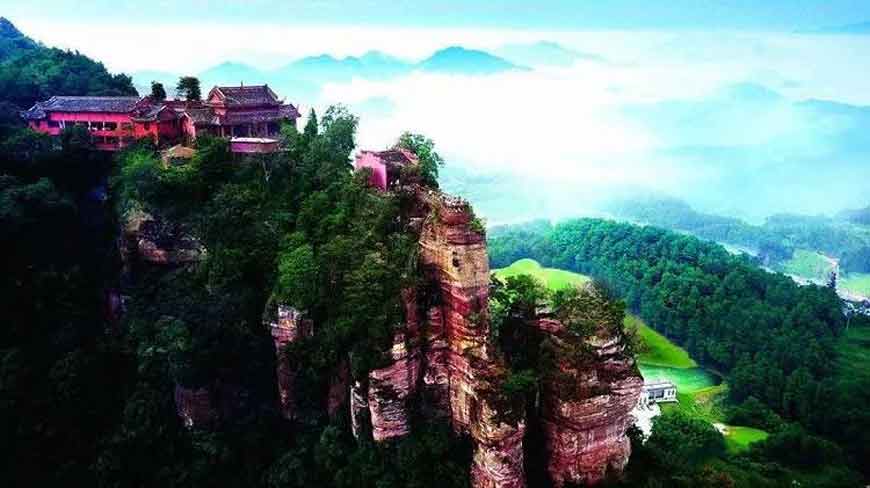 Jingyin Temple on Gujian Mountain
The ancient Sichuan-Guizhou road opened during the Western Han Dynasty, and river ports were built during the Ming and Qing Dynasties in Dongxi Town, Qijiang District.
Tang Dynasty poet Li Bai once eulogized Dongxi. The ancient town was built on the riverbank hillsides, where ancient trees, temples, wells, and stone, walls and houses accumulated over history to form this thousand-year-old town that has survived the passage of time and retained its style.
Laoyingshan National Geological Park
The relics left by Nanping officials in Qijiang have long fascinated experts. Beginning in the Eastern Han Dynasty, they created a splendid civilization, and left behind a wealth of carvings, rock paintings and tombs after they mysteriously disappeared.
The Dinosaur Footprint Group of Laoying Mountain is the largest example discovered from the cretaceous strata in southwest China to date. At present, the dinosaur footprints, Cuipingshan wood fossil group and the Laoyingshan Danxia Corridor are the most dazzling of attractions within this geological parkland.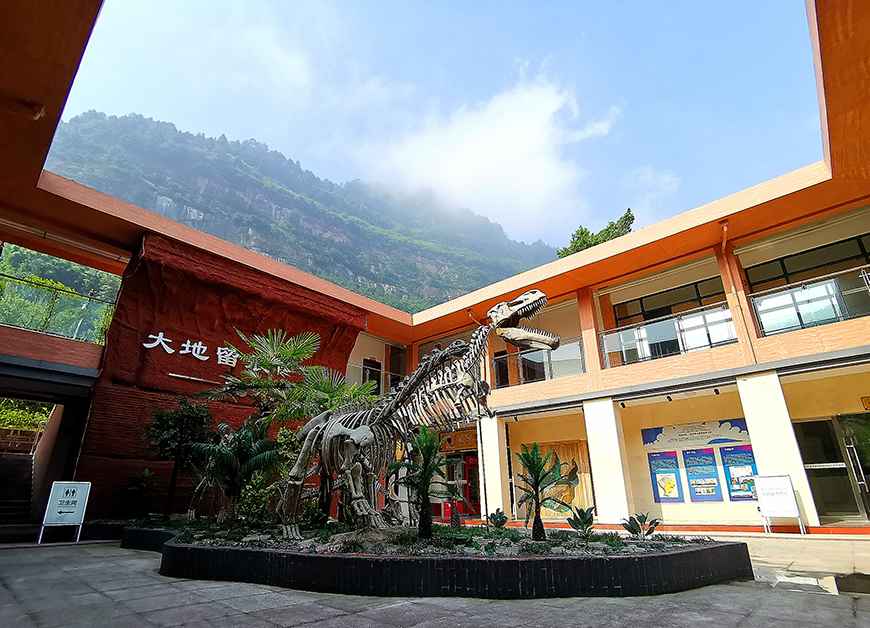 Laoyingshan National Geological Park.
The innovative beauty of Qijiang culture
Folk block prints originate from wood-based New Year paintings in the Ming and Qing dynasties. They are completely handmade by carving pictures on wooden boards and then rubbing paper against them. The prints are bright and colorful while exhibiting rich folk customs and vibrancy.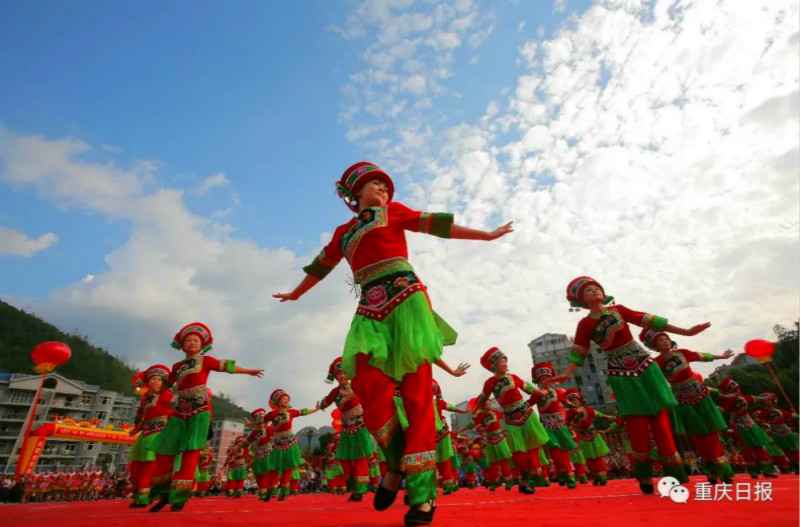 Folk block print
The people of Qijiang have integrated print block designs into culturally innovative tourism products, such as handbags, folding fans, silk scarves, umbrellas, and wine utensils.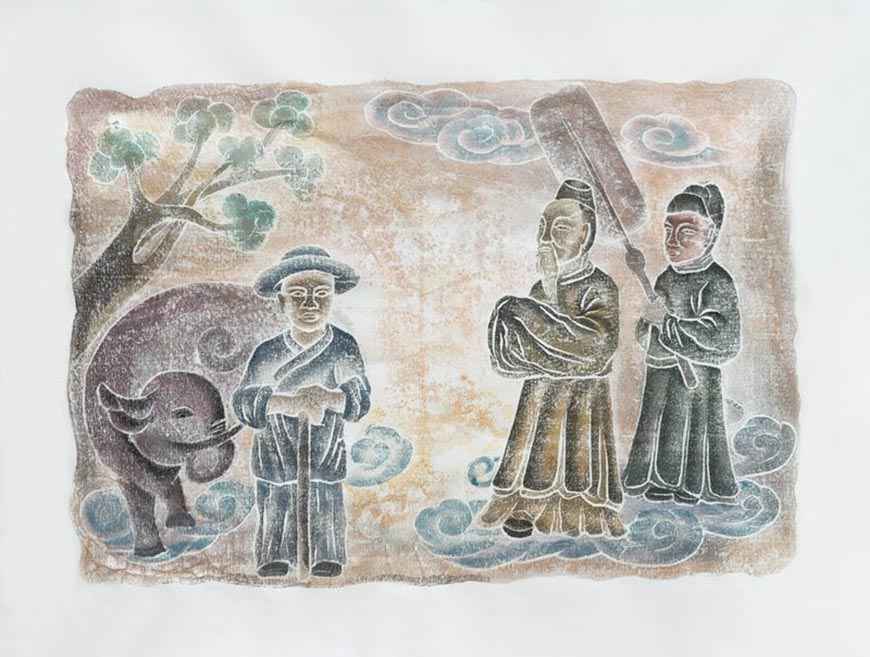 Folk block print
The 'Suona' horn is an old folk instrument from the mountainous areas west of the Qijiang River. They have been played for more than 300 years, and are one of the most popular traditional forms of wind and percussion music in western China. The horn has been listed as national intangible cultural heritage.
He Ganzhong is a master of arts and crafts in Chongqing. His violin studio was founded in the city of Qijiang, where he quietly produced instruments for 30 years. After producing over 300 violins, he has discovered the best way for sound to resonate through the wooden structure, an achieved recognized in domestic music circles, and earning him the title of a famous Chinese brand.
Beidu fish became famous in the 1980s, and is well-known at home and abroad. It originates from the Beidu Wharf on Qijiang River.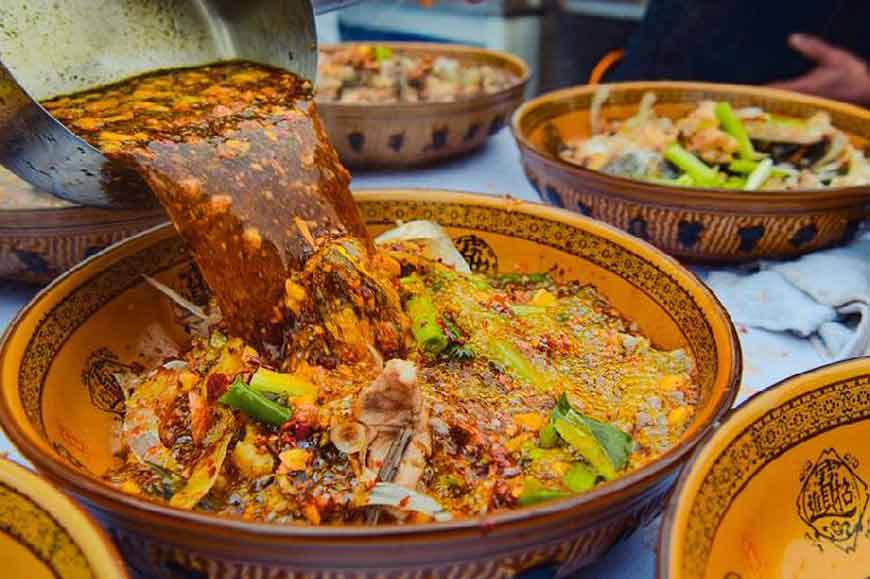 Spicy Beidu fish
The preparation method is to remove the scales of the live fish, and then cook over an earthen stove after sprinkling a large amount of pepper, garlic, special seasonings, and hot oil made from a secret recipe.
Beidu fish is fresh, fragrant, spicy, tender, and refreshing, making it a famous people's dish. Nowadays, a single fish can be prepared in all four individual flavors, which has become a famous Chinese specialty.
'Golden Horn' Old Sichuan Beef Jerky has a history of nearly a hundred years, and is a Chinese time-honored brand and well-known trademark. This jerky uses fresh beef as the main ingredient, and is mixed with a variety of rare natural spices.
It has been refined through a blend of traditional organic methods and modern technology. It has a succulent texture and long aftertaste, and has been developed into dozens of varieties including five-flavor beef jerky, and spicy beef jerky.