Chongqing – Jiangjin District is one of the districts in the southwest of Chongqing. It lies along the upper reaches of Yangtze River and has a history extending back more than 1500 years. The legacy left by its long and profound history and the well-known Simian Mountain Scenic Area makes Jiangjin a popular destination for visitors both home and abroad.
Jiangjin District boasts five ancient towns that vary from hundreds of years old to over 1000 years old. They are Zhongshan, Tanghe, Wutan, Baisha and Shima Ancient Towns. The charming folk wooden buildings, old teahouses, the centuries-old stone lanes, Buddhist temples, shops, and structures built into the caves and cliffs, Jiangjin's historical towns perfectly meet visitors expectations to wander around ancient places and experience the culture of classical China.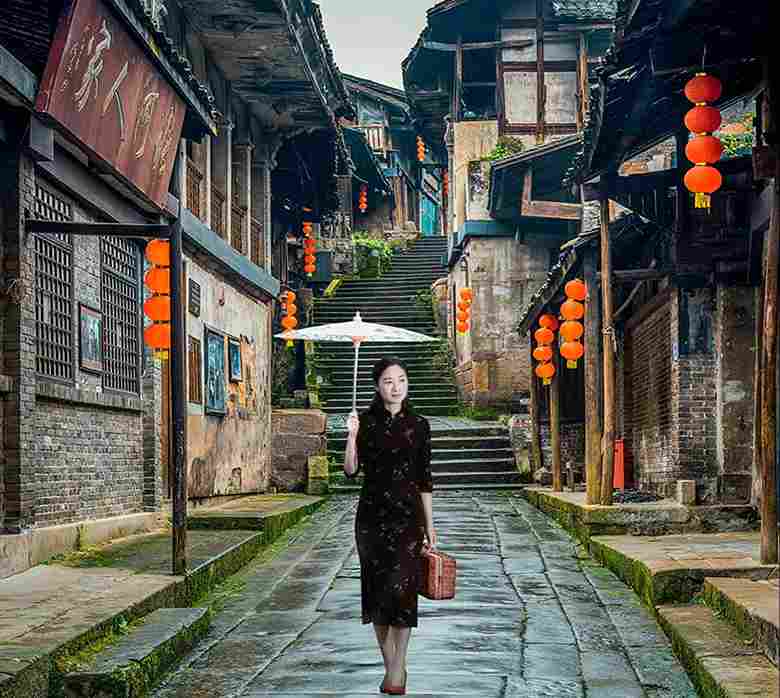 The ancient town in Jiangjin District.
Simian Mountain in Jiangjin District is one of the top ten most beautiful forest parks in China. It is home to many waterfalls, the most famous of which is one of the largest waterfalls in all of China – Wangxiangtai, at the height of 160 meters. With its many rivers, lakes, local historical and cultural spots like Chaoyuan and Feilong Temples, Simian Mountain is popular all year round. It is cool in summer and beautiful under winter snow. Activities include speed boating on Wolong Lake, mountain cycling, and fishing are popular here. A more recent tourist attraction in Simianshan Scenic area is Aiqing Tianti (Chinese Love Ladder), a mountain path with 6,000 steps built by Liu Guogang for his wife, Xu Zhaoqing. Xu was a widower, who fell in love with Liu Guojiang despite being ten years older than him. At the time, in 1950, this relationship was considered unacceptable in their village, and to escape the prying eyes of the villagers, Liu took his love to the mountain. However, because the mountain is very steep, Liu stared carving the steps for the safety of Xu. The path is seen as a symbol of dedication and love between Liu and Xu, and tourists visit the way to their secluded home.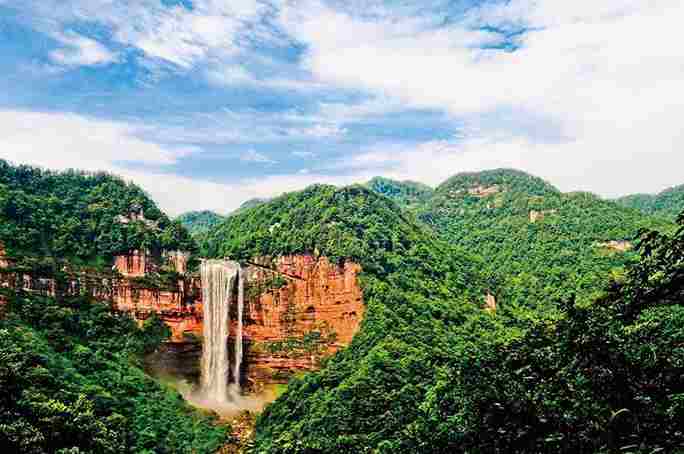 Simian Mountain Scenic Area in Jiangjin District.
Jiangjin District features four distinctive seasons and humid climate and is suitable for microbial growth. All these elements are prerequisites for liquor making. Jiangjin's time-honored liquor brand Laobaigan, a strong limpid liquor usually with an alcohol level of near or above 60 proof, is one of the leading representatives of Chinese liquor. The liquor Brand Jiangxiaobai, a relatively young liquor brand that started in 2012 in Jiangjin and targets on the youth market, has gained great popularity nationwide and started down the path to global recognition.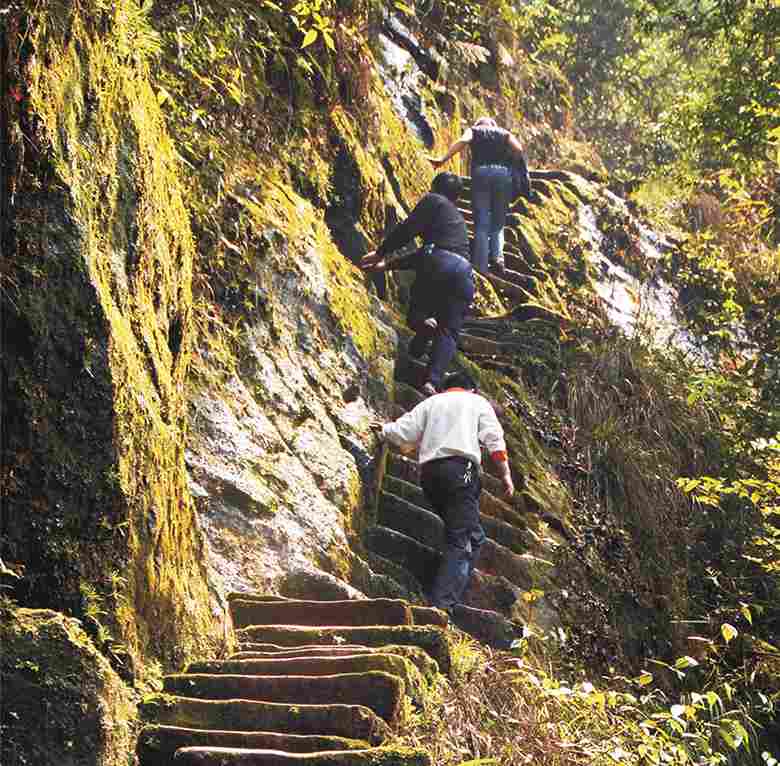 Chinese Love Ladder in Simian Mountain Scenic Area.